MOUSEMET: ONE acclimation period, then THREE nociceptive tests. The rotary action of all three transducers reduces operator fatigue and the effect of hand tremor on the measurements. With elbows comfortably supported on the bench, the handles are simply twisted to apply the stimulus. Hot, cold and mechanical or Electronic von Frey thresholds are displayed on the screen after the test. Also available for RATS.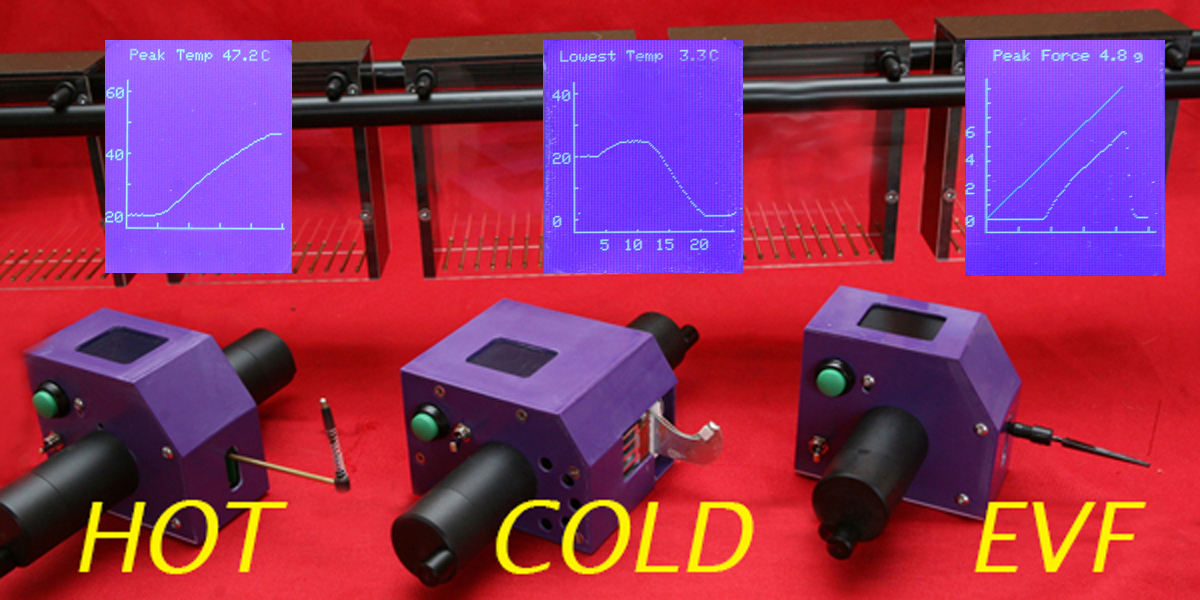 NEWS: Mousemet used by University of Mississippi in cancer pain study. "Mousemet EvF provided our behavioral endpoint to quantify tactile allodynia and its attenuation in this mouse CIN model. It is a terrific piece of instrumentation that has led us to a novel approach for treating CIN." Dr K Sufka, Professor of Psychology, Pharmacology & Philosophy.
"MouseMet Thermal eliminates the 30-60 min acclimation time we had with the Hargreaves, enabling testing of compounds with short duration of action" Dr Jennifer Deuis, University of Queensland.
"It's the Cadillac of EvF" Hannah Marie Harris MA (University of Mississippi)
PRICES: The starter system for MouseMet EvF is fully upgradeable and is available, ex-works for £2350. Please email mike@topcatmetrology.co.uk for the price list.
THE ADVANTAGE: Studies make use of many mice. In a new environment, they need to explore, and nociceptive testing can only start when they have settled. Time is wasted and the mice are stressed each time they are moved to another environment. MouseMet (and RatMet) allow the measurement of mechanical (Electronic von Frey), hot and cold thresholds in the same runs and make a considerable contribution to the 3Rs. And with additional sets of runs, the acclimation time is removed completely. For price and availability, please email mike@topcatmetrology.co.uk